Here you see a selection of my cat portraits.
By clicking on the paintings you will see a larger version alongside the client's reference photograph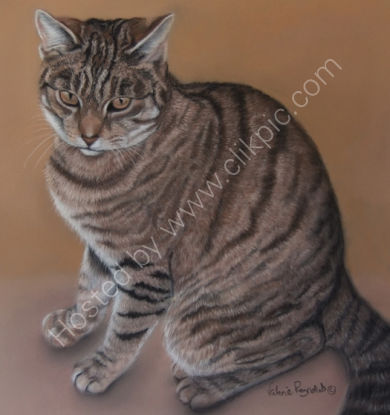 Kaylee kindly told me 'My mother bought me Tiger-lilly from a couple in Norfolk for only £15 she was only 7 weeks old. She reminded me of a little Bengal with her meows, climbing up me and sitting round my neck, she was a lovely cat. Tiger Lilly loved to go out hunting and to bring me back mice, birds and even moles. When she had a litter of kittens she even went out and brought back mice for them which I disliked and course didn't let her kittens eat them lucky she killed them before bringing them into the house. Unfortunately she sadly died last year at only 5 yrs of age which I was most upset about and miss her lots she will be a cat that will never be replaced. It must have been a car or the vet thought she may of fallen from a tree. Although its upsetting not having my pet anymore Im grateful for meeting Valerie at the Wood Green cat show in August 2011 and from seeing her wonderful paintings I decided it was only right that I got a painting done of my beloved pet to remind me of what a brilliant cat she was. So I would like to say a big thank you to you Valerie for taking so much time and care on doing a wonderful painting of my cat Tiger-Lilly'. Bless you Kayleee, I was truly honoured to do so for you, she was a really stunning girl, and I loved painting her for you. Thank you.